Teaching English Overseas
TEACH ENGLISH OVERSEAS
Thousands of Americans find work overseas every year. Many of these people find work teaching English to people who speak foreign languages. Many industrialized nations provide English instruction to students of all ages through national education systems. The ability to communicate with English-speaking countries has contributed greatly to increases in prosperity and business relations for many nations around the world.
Popular Destinations for Americans to Teach English Overseas
South Korea
: South Korea has a high demand for English teachers and offers competitive salaries, benefits, and a vibrant culture. Cities like Seoul, Busan, and Daegu are popular choices.
China
: With a vast population and a growing emphasis on English education, China offers numerous teaching opportunities. Major cities like Beijing, Shanghai, and Guangzhou are popular destinations for English teachers.
Japan
: Japan attracts many English teachers with its unique blend of traditional and modern culture. Cities like Tokyo, Osaka, and Kyoto offer a high standard of living and great teaching opportunities.
Spain
: Known for its rich history, stunning architecture, and vibrant lifestyle, Spain is a desirable destination for English teachers. Cities such as Madrid, Barcelona, and Valencia offer a combination of job opportunities and a high quality of life.
Thailand
: Thailand's warm climate, beautiful beaches, and friendly locals make it a popular choice for teaching English. Bangkok, Chiang Mai, and Phuket are popular destinations for English teachers.
Vietnam
: Vietnam has emerged as a popular destination for English teachers due to its low cost of living, picturesque landscapes, and welcoming locals. Cities like Ho Chi Minh City and Hanoi offer diverse teaching opportunities.
United Arab Emirates
: The UAE attracts English teachers with its high salaries, modern infrastructure, and rich cultural experiences. Cities like Dubai and Abu Dhabi offer a luxurious lifestyle and excellent teaching opportunities.
Czech Republic
: The Czech Republic offers a unique teaching experience in the heart of Europe. Cities like Prague and Brno provide opportunities to immerse in the country's history and culture.
Costa Rica
: Known for its natural beauty and eco-friendly reputation, Costa Rica offers English teaching opportunities for those seeking a more relaxed and tropical environment.
Italy
: With its rich history, art, and cuisine, Italy appeals to many English teachers. Cities like Rome, Milan, and Florence offer a combination of teaching opportunities and a culturally immersive experience.
These destinations offer diverse experiences and opportunities for English teachers, allowing them to explore different cultures, develop professionally, and make a positive impact on students' lives.
Teaching English overseas can be a fulfilling and exciting experience. Here's everything you need to know to embark on your journey:
Qualifications:
While requirements may vary by country and institution, most employers prefer candidates with a bachelor's degree in any field. Additionally, obtaining a TEFL (Teaching English as a Foreign Language) or TESOL (Teaching English to Speakers of Other Languages) certification is highly recommended and often a minimum requirement for teaching positions.
Research your Destination:
Start by researching the countries or cities where you would like to teach. Consider factors such as demand for English teachers, cost of living, cultural aspects, visa regulations, and job prospects. This will help you make an informed decision about your preferred destination.
Visa Requirements:
Each country has its own visa regulations for foreign teachers. Research the specific visa requirements and processes for your chosen destination. Typically, your employer will assist you with obtaining the necessary work visa or provide guidance on the process.
Job Search:
There are various avenues to find English teaching jobs overseas. You can search online job boards, connect with recruitment agencies, attend job fairs, or directly contact schools and language institutes in your desired location. Networking and joining online teaching communities can also provide valuable job leads.
Types of Teaching Positions:
English teaching opportunities can vary, including positions in public or private schools, language institutes, universities, international schools, or corporate settings. Consider your preferences and desired work environment when applying for jobs.
Compensation and Benefits:
The salary and benefits package for English teaching positions vary by country and employer. Research and compare salary ranges, housing allowances, health insurance coverage, flight reimbursement, paid holidays, and other perks to determine the best fit for you.
Cultural Awareness:
Embrace the culture of your host country and be respectful of local customs and traditions. Familiarize yourself with the local language, etiquette, and social norms. Cultural sensitivity will help you build rapport with students and colleagues, and enrich your overall experience.
Classroom Management and Lesson Planning:
Develop effective classroom management strategies and lesson plans to engage your students and cater to their needs. Adapt your teaching style to the cultural context, and consider incorporating local examples and references in your lessons.
Professional Development:
Continuous professional development is essential for growth as an English teacher. Attend workshops, conferences, or online courses to enhance your teaching skills and stay updated with the latest teaching methodologies and resources.
Personal Safety and Well-being:
Prioritize your personal safety and well-being while teaching abroad. Familiarize yourself with local laws and safety precautions. Maintain open communication with your school or employer and seek support networks within the expat community.
Cultural Exchange and Language Learning:
Teaching English abroad is not just about imparting language skills but also about cultural exchange. Embrace the opportunity to learn from your students, colleagues, and the local community. Engage in language learning activities to improve your proficiency in the local language.
Embrace Challenges and Flexibility:
Teaching English overseas may come with its challenges, such as language barriers, cultural differences, or adapting to a new environment. Embrace these challenges as opportunities for personal and professional growth. Be open-minded, adaptable, and resilient in the face of new experiences.
Teaching English overseas can be a transformative experience, allowing you to make a positive impact on students' lives while immersing yourself in a new culture. Embrace the adventure, be prepared, and enjoy the journey of teaching English in a foreign land.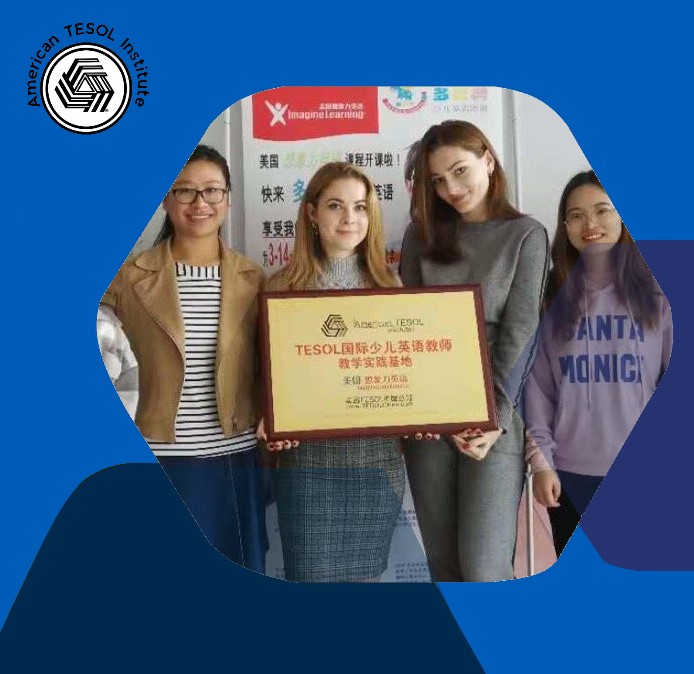 American TESOL Institute - ATI
Teaching English to Speakers of Other Languages