TESOL COURSES
TESOL, which stands for Teaching English to Speakers of Other Languages, refers to courses that are specifically designed to equip individuals with the necessary skills and knowledge to effectively teach English to non-native speakers. TESOL courses cover a wide range of topics essential to English language teaching. The curriculum typically encompasses language acquisition theory, lesson planning, classroom management, teaching methodologies, assessment and evaluation, linguistics, cultural considerations, and practical teaching skills.
Within TESOL courses, you will be introduced to various teaching methodologies and techniques used in English language instruction. You'll become familiar with approaches such as communicative language teaching, task-based learning, and student-centered methods, which are proven to be effective for teaching language skills such as speaking, listening, reading, and writing.
Emphasis is placed on developing strong lesson planning skills during TESOL courses. You'll learn how to design and deliver engaging English lessons, create interactive activities, establish learning objectives, adapt materials, and effectively integrate technology into your teaching.
TESOL courses also address the crucial aspect of classroom management. You'll acquire strategies for creating a positive learning environment, engaging students, managing behavior, and facilitating effective communication among learners.
Cultural considerations are an integral part of TESOL courses. You'll explore the importance of cultural awareness and sensitivity when teaching English to speakers of other languages. This includes understanding intercultural communication, recognizing cross-cultural differences, and implementing strategies to foster inclusivity and respect within the classroom.
Language skills development is another core component of TESOL courses. You'll delve into the structure and components of the English language, studying grammar, vocabulary, pronunciation, and effective methods for teaching these aspects to non-native speakers.
Some TESOL courses offer opportunities for classroom observation and practice teaching, allowing you to gain hands-on experience in real teaching environments. Through these experiences, you'll receive feedback from experienced instructors, apply what you've learned in practical settings, and further enhance your teaching skills.
Upon completion, a TESOL certificate can open doors to various teaching opportunities. It is highly valued for teaching English abroad, as many countries require or prefer English teachers to have a TESOL certificate. It can also serve as a qualification for teaching positions in private language schools. Additionally, TESOL certification enhances your competitiveness when applying for online teaching positions, demonstrating your commitment to professional development and expertise in English language instruction. Moreover, a TESOL certificate can establish your credibility as a qualified English tutor or freelance teacher, attracting potential clients or students.
Ultimately, a TESOL certificate equips you with the knowledge, skills, and credibility necessary to teach English to non-native speakers, providing access to a wide range of exciting teaching opportunities both domestically and internationally.
TESOL courses are meticulously designed to efficiently prepare individuals for employment opportunities in the field. Whether in a conventional classroom environment or through online platforms, TESOL courses, accompanied by certification, typically span a duration of approximately three to four weeks. Subsequently, a multitude of possibilities becomes available for exploration. The demand for English teachers possessing TESOL certification is rapidly expanding, outpacing the current supply of qualified candidates. In light of this trend, American TESOL proudly offers a guaranteed job placement program, providing a definitive assurance of employment opportunities to individuals who successfully complete our TESOL certification.
Teachers of English to Speakers of Other Language

Online TESOL courses have gained significant popularity due to their flexibility and accessibility. This option is particularly suitable for individuals residing in remote areas or those with daytime work commitments, as it allows for convenient home-based learning. Following enrollment, course materials and subsequent lessons will be delivered electronically via email or traditional mail, ensuring seamless access to learning resources. As a new student, you will be provided with a dedicated home page, facilitating real-time communication through live chat functionality with your instructor.


Teach English and Travel Worldwide

In addition to its inherent convenience, online TESOL education offers considerable advantages, granting learners the autonomy to establish a personalized work environment and tailor their study schedule to suit individual needs. The self-paced nature of online courses empowers students to progress at a speed that aligns with their learning preferences. Upon successful completion of the comprehensive 80-hour coursework, the esteemed TESOL certificate is conferred, accompanied by immediate employment prospects. This straightforward process attests to our commitment to streamline the transition from certification to employment. Moreover, American TESOL extends unwavering support beyond certification attainment. We remain readily available to address any inquiries pertaining to job placement or contractual intricacies, ensuring our graduates' seamless integration into the professional domain.


Accredited TESOL & ESL Certification and Job Placement

Teaching English abroad is the experience of a lifetime. Recent graduates, people changing careers, or people contemplating a few more years of working before retirement are all perfect candidates to take TESOL courses. For more information, please call us toll free at (877) 748-7900.


Teaching ESL & TESOL Job Placement Guarantee

Upon successful completion of your studies at the American TESOL Institute, we are honored to provide dedicated support in securing a teaching position. Our comprehensive resources and expert guidance enable us to facilitate placements in renowned educational institutions across a wide range of locations, including Korea, Japan, China, Taiwan, Thailand, Europe, and numerous other destinations worldwide. Additionally, opportunities to engage in volunteer teaching positions within schools or private organizations are also available. Many students opt for e-tutoring or in-home tutoring roles, which provide valuable teaching experiences. The remuneration for TESOL and ESL positions varies depending on the location. When considering potential teaching destinations, it is essential to consider factors such as climate, adaptability, and student response, among others. At the American TESOL Institute, our training equips you with the skills and expertise that will enable you to excel in any environment, fostering a sense of fulfillment and garnering recognition and esteem.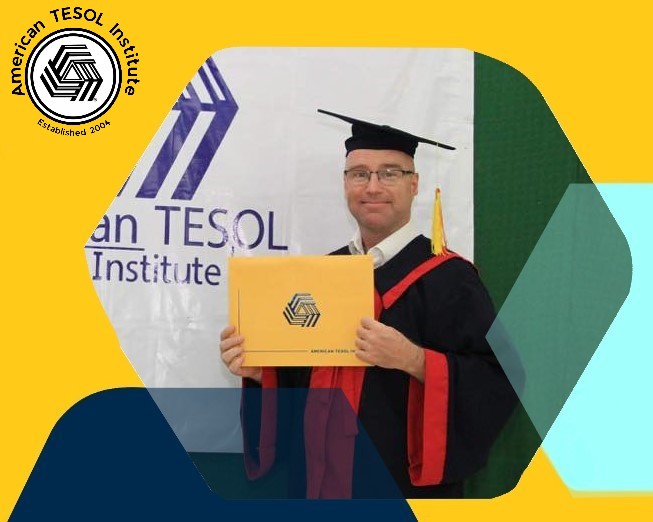 American TESOL Institute - ATI
Teaching English to Speakers of Other Languages