Teaching English in Taiwan
If you hold a Bachelors degree, are a native English speaker, and are looking for one of the most exciting job opportunities you will ever have, you may want to
teach English in Taiwan
. Getting certified takes only a couple of weeks, jobs are plentiful, and you can earn money, travel, teach (and learn), and add an attractive line to your resume all at once.
Teaching English in Taiwan can be a rewarding and enriching experience. The demand for English teachers in Taiwan is high, and the country offers a vibrant cultural experience along with a strong emphasis on education. Here's an overview of teaching English in Taiwan:
Qualifications: To teach English in Taiwan, most schools and language institutes require a bachelor's degree in any field. Additionally, obtaining a TEFL (Teaching English as a Foreign Language) or TESOL (Teaching English to Speakers of Other Languages) certification is highly recommended and can enhance your job prospects.
Job Market: Taiwan has a robust job market for English teachers, especially in major cities like Taipei, Kaohsiung, and Taichung. There are opportunities to work in public schools, private language institutes (known as buxibans), kindergartens, universities, and corporate training centers. The demand for English teachers is consistent, providing a range of employment options.
Work Environment: Teaching English in Taiwan typically involves working with motivated students of various ages, from young learners to adults. Class sizes can vary, but they are generally smaller than in other countries, allowing for more personalized instruction. Taiwanese students are known to be disciplined and hardworking, making the teaching experience enjoyable.
Salary and Benefits: English teachers in Taiwan can earn a competitive salary that allows for a comfortable lifestyle. The exact salary varies depending on factors such as qualifications, experience, and the type of institution you work for. Benefits often include flight reimbursement, paid holidays, health insurance, and assistance with finding accommodation.
Work Hours: English teachers in Taiwan typically work around 20-25 hours per week in the classroom, with additional hours dedicated to lesson planning and grading. Teaching hours can be spread throughout the day, including evenings and weekends, as many students attend classes outside regular school hours.
Cost of Living: The cost of living in Taiwan is reasonable, especially outside of major cities like Taipei. Rent, transportation, and daily expenses are generally affordable, allowing teachers to save a portion of their salary while still enjoying the local culture and attractions.
Cultural Experience: Taiwan offers a unique blend of traditional Chinese culture and modern influences. From vibrant night markets and stunning natural landscapes to ancient temples and bustling cities, there is always something to explore. Taiwanese people are known for their friendliness and hospitality, which can greatly enhance your experience as an English teacher.
Visa Requirements: To work legally in Taiwan, you'll need to obtain a work visa (often referred to as an ARC - Alien Resident Certificate). Your employer will typically assist you with the visa application process, which usually involves providing necessary documents, such as a criminal background check, health check, and proof of employment.
Teaching English in Taiwan can be an incredibly fulfilling experience, allowing you to immerse yourself in a rich culture while making a positive impact on students' lives. It provides an excellent opportunity for personal and professional growth, and many teachers develop long-lasting connections with both students and fellow educators.
Teachers of English to Speakers of Other Language

Few places on earth offer job opportunities like teaching in Taiwan. With a TESOL certification and a college degree in any field, you are virtually guaranteed a job teaching English in Taiwan. The demand for English teachers in Taiwan far exceeds the number of qualified teachers. Don't let this opportunity to work, teach and live in this fascinating country get away from you.


Teach English and Travel Worldwide

If Taiwan is not your first choice of country consider the other possibilities. Virtually every country in the world is looking for English teachers, from Latin America to South America to Asia to Europe. English is the most widely spoken cultural language on the planet today, and as the global economy gets tighter and tighter, English becomes more and more important.


Accredited TESOL & ESL Certification and Job Placement

Whichever country you decide is right for you, teaching English abroad is an unforgettable experience. Most teachers say they learn as much as they teach during their tenure. It is also a great way to foster cross-cultural relationships between countries and peoples, so don't delay. Call American TESOL Institute at (877) 748-7900 for more information.


Teaching ESL & TESOL Job Placement Guarantee

Upon successfully graduating from American TESOL Institute, we take privilege to assist you in getting a teaching job. Our resources and guidance can place you in Korea, Japan, China, Taiwan, Thailand, Europe, or anywhere else in the world. You can also apply for a volunteer teaching job at schools or private organizations. There are many students who opt for etutoring jobs or tutoring jobs at trainees home. The paid tutoring job scale for TESOL and ESL positions varies with location. While considering where to teach it's important to consider climatic, adaptability, kids' response and many other factors. At the American TESOL Institute, we train you in such a way that you will be pleased to work anywhere with highly acclaimed repute and respect. Click here for more information: Online TESOL Certification Course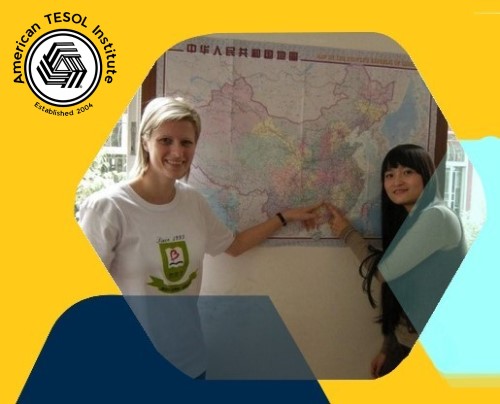 American TESOL Institute - ATI
Teaching English to Speakers of Other Languages